Our History
A lasting legacy
Explore our lasting journey in the Pro-Life movement, beginning back in 1974, a testament to our unwavering commitment to cherish and protect the sanctity of life.
1974
On January 22nd, Virginia and Ellis Evers ran across a full-page ad in their local newspaper in San Diego, California. Prominent in the ad was a picture of the tiny feet of a ten-week-old unborn baby held between a man's fingers and thumb. Inspired by the remarkable photo, Virginia Evers felt these little feet would be the ideal pro-life symbol. With love and dedication for the unborn, Virginia designed the "Precious Feet" lapel pin.
1979
At a world-wide symposium in Dublin, Ireland the "Precious Feet" were named the "International Pro-Life Symbol." Since that time over 24,000,000 have been distributed throughout the world.
1991
Virginia and Ellis retired with the consolation that their ministry would continue through their daughter and son-in-law, Dinah and Mike Monahan. For six years the Monahan's took pregnant young women into their home under the "We Care" program sponsored by the Heritage House.
2001
Dinah created the "Earn While You Learn" program which changed the landscape of Pregnancy Centers across the country. EWYL was soon used in over 1,200 centers and allowed Heritage House to continue to expand their pro-life offerings.
2016
After helping guide Heritage House for a decade, Brandon and Dawn Monahan continued the family legacy of a life-giving culture at Heritage House.
Today
We are expanding our pro-life efforts by focusing on the cause and prevention of abortion. Chastity and abstinence will help to prevent contraceptive abortion in our country. They will reduce the number of children born into single-parent families, decrease welfare costs and help curb the spread of sexually transmitted diseases. Chastity begins in the home. Our families are the answer.

We are committed to providing you with effective, current, top of the line materials to continue your fight for life and traditional family values. With books, videos, promotional materials, and fund raising items we have structured our prices so that you can buy in quantity and receive a substantial discount. Our goal is to be your educational resource, to provide a means by which your group can earn money while it spreads the message of life, and to equip you with the materials you need to nurture and preserve the family.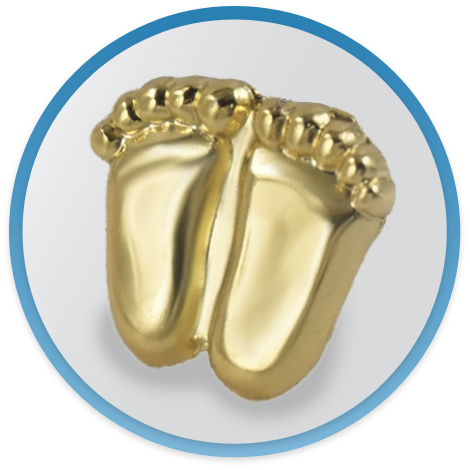 The Future
Saving & Changing Lives Together
At the Heritage House, we are dedicated to enduring partnerships that save and change lives. Empowering pregnancy centers, pro-life organizations, churches, and individuals with essential resources, we foster a community cherishing every precious life. Together, we shape a world where life is celebrated and protected, one heart at a time.
Shop "Precious Feet" Products
Read our statement
against violence
Learn about our heartfelt stand against violence in the Pro-Life cause. For more details, click here.
Learn about our
mission & vision
Understand more of what drives Heritage House and our commitment to making a difference. Find out more here.
Learn about the live nurse
chat line
Available 24/7, our live nurse chat line provides immediate support and information during unexpected pregnancies. Learn more here.